Solar Egg by Bigert & Bergström opens in Skellefteå
On the rooftop of Sara Kulturhus the world famous sauna joins a fabulous art venue with newly added shower and changing rooms. The Solar Egg by Bigert & Bergström for Riksbyggen is a collaboration with Skellefteå Konsthall for the exhibition The Broken Greenhouse. A perfect opportunity for sauna talks about a sustainable future in the North.
From 6 February the sauna is open for booking. A visit is free of charge and opening hours range from Wednesday to Saturday during the whole exhibition period between 11 February to 30 April 2023.
Welcome to book your treat here
Riksbyggen's new residential projects in Kiruna are to inaugurate the city's already world famous transformation. This is celebrated with an art project that takes the sun as catalyst for creativity, care, hope and togetherness.
As a symbol of new beginnings Solar Egg was commissioned by Swedish housing company Riksbyggen and created by Swedish artists Mats Bigert and Lars Bergström. The saunas exterior consists of 69 golden plates reflecting the landscape and its inhabitants. It is heated by a heart-shaped wood-fired burner and can accommodate up to eight persons. Solar Egg captures Kiruna's fantastic spirit and at the same time it's old sauna traditions.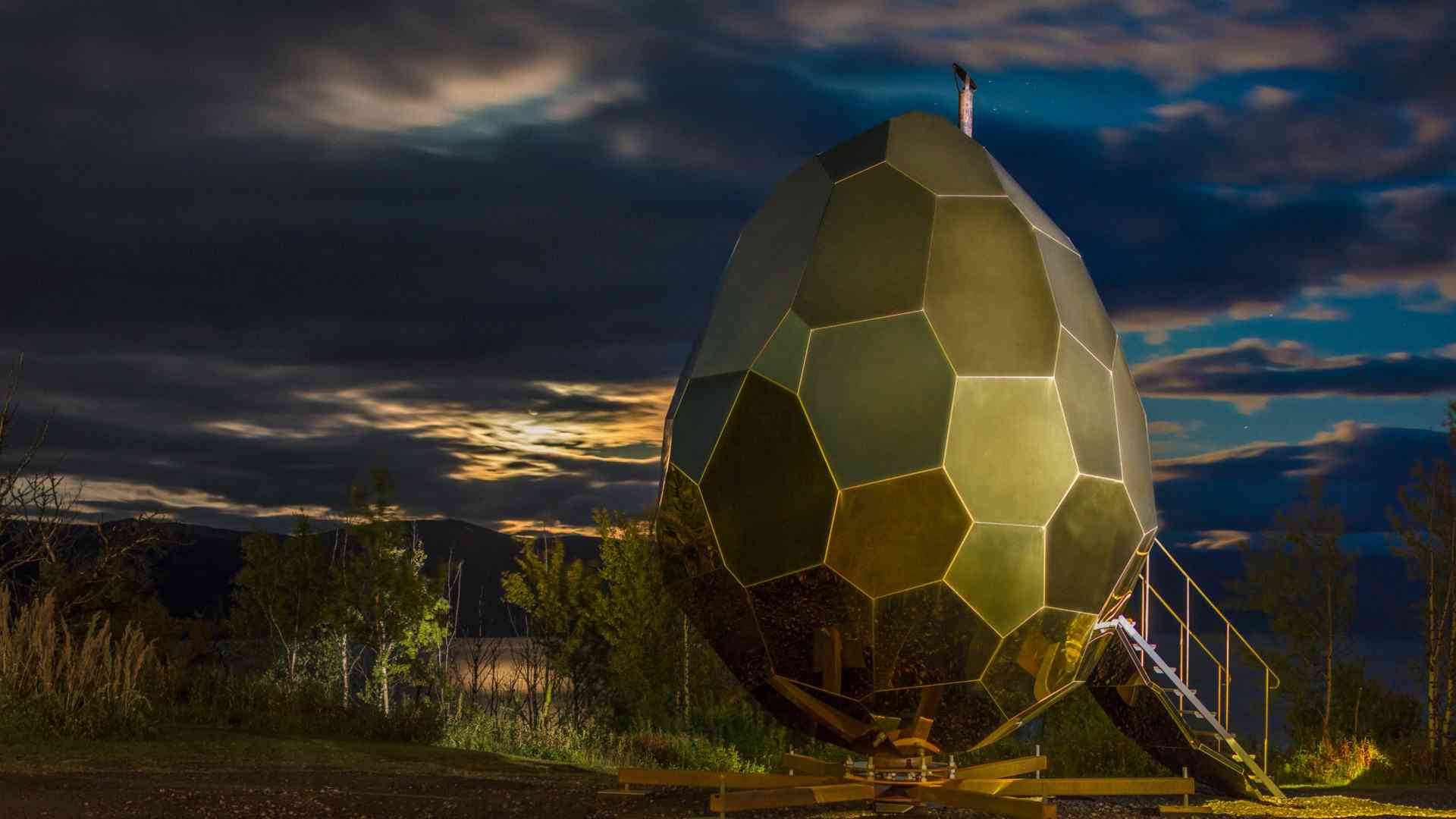 Since April 2017, Solar Egg has invited sauna bathing visitors in numerous stunning locations: Björkliden, Paris, Stockholm, Copenhagen, Gällivare and Minnesota (USA).

The summer 2019 The Solar Egg visited Rättvik in Sweden. The beautiful site just next to the lake Siljan offered a spectacular opportunity to take a sauna bath and swim in the lake.
A prize-winning viral success
Going viral in social media and architecture blogs, more than a billion people around the world has had the chance to read about the unique art piece as of October 2018. Not only the public has taken Solar Egg to their hearts, but also quite a few design award juries.
For their collaboration Riksbyggen, Bigert & Bergström was awarded winner of Swedish Arts & Business Awards 2018. In 2017 it won a Red Dot Award, Stålbyggnadspriset and German Design Award. It received a silver medal in the Swedish Design Award and London International Awards.
In November 2018 Time Out released a bucket-list of "The very Best things to do", among the 50 items on the list, Solar Egg came in third.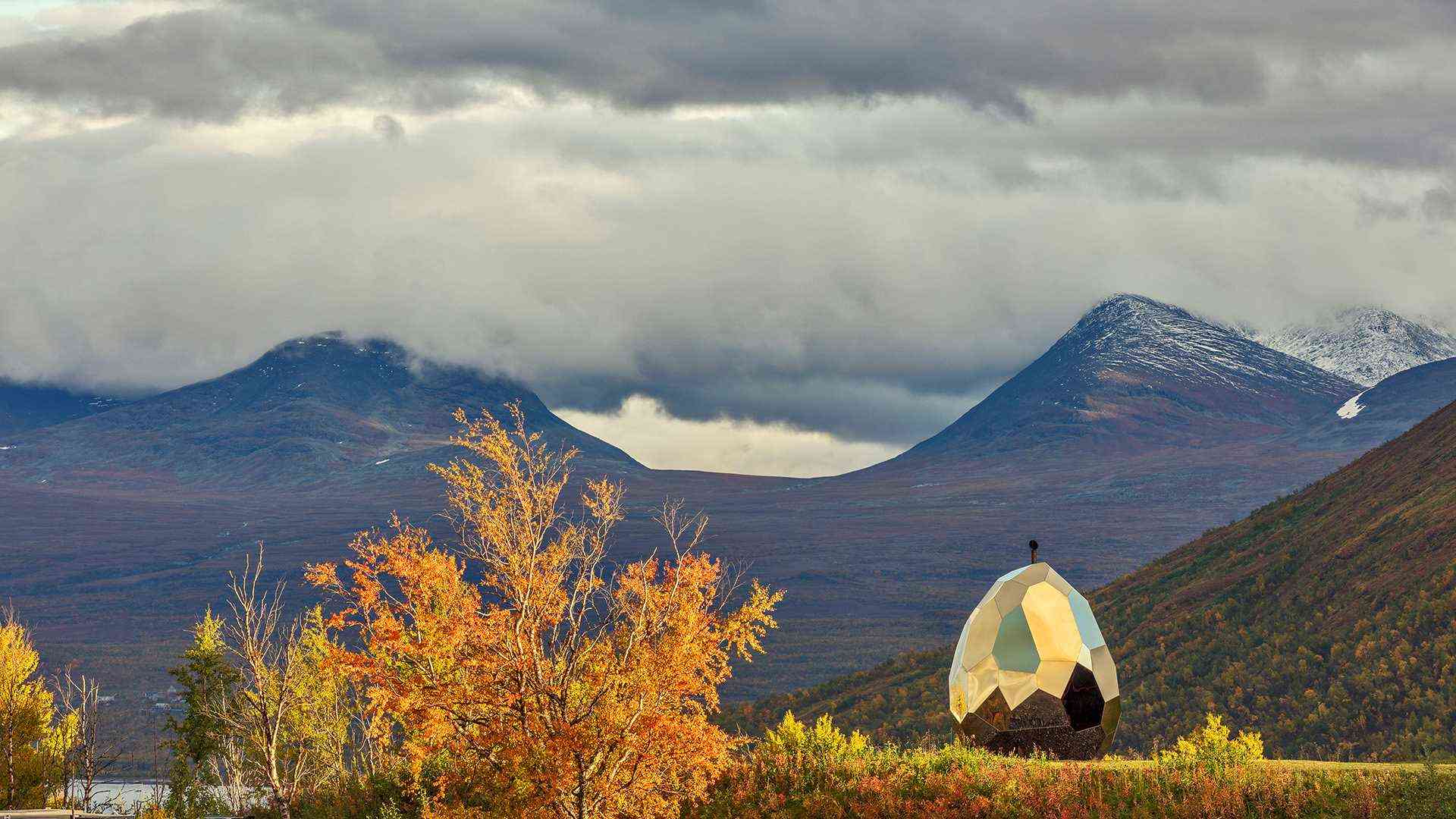 Artistic duo behind Solar Egg
Bigert & Bergström have a longstanding fascination with humanity's relationship to climate, nature, energy and technology. They gained international prominence with their climate chamber designed for World Expo in Lisbon in 1998. In 2015, Bigert & Bergström covered the peak of Sweden's highest mountain, Kebnekaise, with an insulating coat to examine whether geo-engineering could help to slow glacial melting. Solar Egg shifts that focus to practical use.

Solar Egg – the book
From conceptual art project to viral phenomenon. This lavishly illustrated book chronicles the making of the artwork, from rough sketches and blueprints, via studio visits to the tour of the final piece. It includes texts by Sinziana Ravini, Michael Thouber, and Göran Cars, as well as an interview with the artists and Mathias Sandberg. The book is available for purchase in publisher Art and Craft's shop.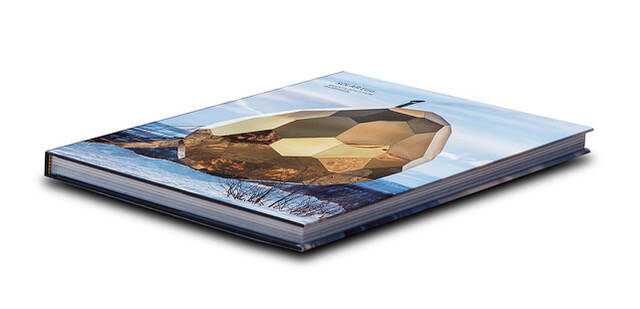 Photo: Emil Fagander

Riksbyggen in Kiruna
Riksbyggen is developing 250 new apartments in the Kiruna region within the next 10 years. The first 47 new condominiums are located right at the ski slopes of Loussavaara with an amazing view over the mountains and the arctic environment. For more information visit the website of Brf Fjällvyn.

Riksbyggen's residential apartments at Luossabacken will be one of the first construction projects of Kiruna's city transformation and will have views of the Arctic fells. A housing cooperative owned by its members, Riksbyggen wants to give Kiruna a unique natural and cultural experience that reflects the city's location and puts people at the forefront.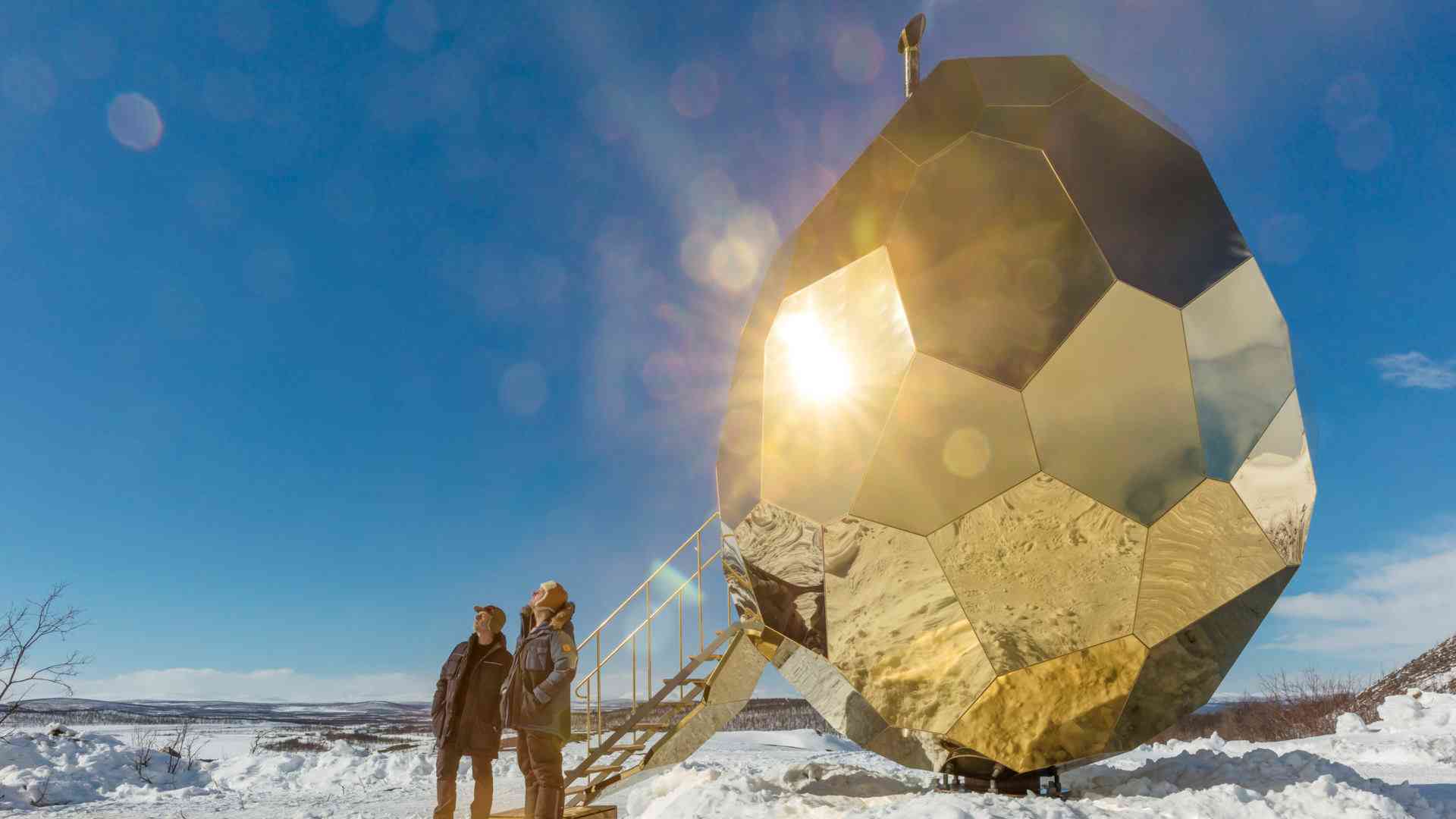 Solar Egg – facts
Solar Egg was commissioned by Swedish housing company Riksbyggen and created by Swedish artist duo Bigert & Bergström in April 2017.
It is 4,5 meters high and 12,6 meters in circumference.
It weighs 2750 kg.
The wood burner is shaped like a human heart and weighs 750 kg.
Assembling the 69 golden plates and 1512 screws takes about 4 to 5 days.
Since April 2017 Solar Egg by Bigert & Bergström for Riksbyggen has visited Kiruna, Björkliden, Paris and Artipelag, Stockholm.